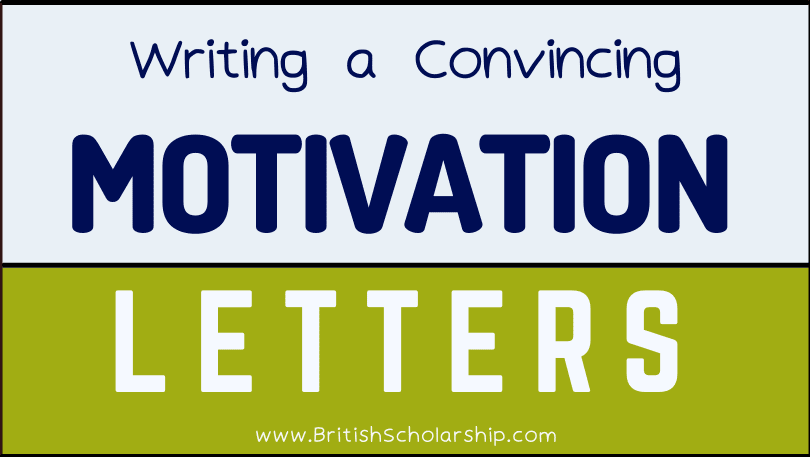 Your scholarship application may succeed or fail based on your motivation letter!
Before an in-person interview, this is your chance to demonstrate your knowledge. Not every scholarship application requires a motivation letter. However, they are crucial when they are needed.
What Is a Motivation Letter for a Scholarship?
Like a cover letter you could submit with a résumé and job application, a motivation letter serves the same purpose. The letter's goal is to clarify:
Why should you be awarded the scholarship?
What do you intend to do with your education?
Review committees frequently utilize motivation letters to reduce the number of candidates they consider. The remainder of the applications from the applicants they prefer is next evaluated. Most graduate-level scholarships require motivation letters. You might occasionally have to write one for bachelor's level specialty programs. Take advantage of the opportunity if you can include a motivation letter with your scholarship application.
Motivation Letters for Scholarship Applications
Typically, the length requirements for your motivation letter are not stated in the application. To write a succinct motivation letter, you must exercise good judgment. The letter of motivation should include:
The crucial components of your CV
Your Education
Your career background and future goals.
The typical length of a motivational letter is 500 – 1,000 words. Like a conventional 500-word essay, you should break them up into paragraphs while writing for readability.
Your Motivation Letter Should Be Customized to the Scholarship
Your motivation letter must show how your future intentions align with the scholarship's objectives. How will continuing your study in this subject be beneficial to you? How will you put this knowledge to use to advance the scholarship provider's objectives?
Mention that the scholarship is being offered by a group that promotes wildlife protection. It would be best if you described in your letter how you want to use your degree to pursue a profession in that area. You must also explain why you are more deserving of this application than the others. What particular experiences do you have now that distinguish you from the others?
What detailed strategies do you have to solve a current global issue? Use your knowledge of the situation however, limited it may be to your advantage. Describe how you could prosper and address even more points in the future with additional education.
The Format of a Motivation Letter for a Scholarship
Although they differ depending on the scholarship, motivation letters often include these three components:
1# An Introduction
Your scholarship motivation letter should begin with a brief introduction that details the program you wish to apply for and your reasoning behind doing so.
The goal of your upcoming initiatives and career must be stated in unambiguous terms.
Your name and most recent degree must be included in your introduction, which is of utmost importance.
2# Paragraphs in the body
Information regarding your academic and professional background should be included in the first paragraph of the motivation letter's main body. Your professional experience may not only include employment directly related to academia, such as teaching or research, but also employment outside the academic field, such as volunteer work, which exhibits pertinent abilities and expertise. The chronological development of your career must also be shown in this line. Finally, describe the professional goals you hope to achieve with the help of this program's curriculum.
You should describe your educational goals in the second paragraph. Additionally, how you want to give back to society and the issues, you hope to resolve with the aid of your knowledge. Put a focus on your desire to learn new things and eagerness to better your employment possibilities.
Your plans should be discussed in the third paragraph. This can involve acquiring new information or enrolling in a course that corresponds. You must be able to articulate what drives you and what you hope to accomplish as a result of your study. It should also include information about your published works. Showcase your soft abilities and discuss how they might be useful for your research and your area of study.
3# A Conclusion
Mention the potential effects of your study(s) on your life, your field of study, and society at large in your conclusion.
Describe how the university and scientific community will profit if you are chosen as a program applicant.
Also, mention how you will benefit from the program and how you are aware of how competitive the program is.
More importantly, it needs to reiterate why the selection committee should pick you over the other applications and why you are the perfect candidate.
What not to put in a Motivation Letter for a Scholarship 
Your scholarship motivation letter needs to be well-written and error-free. Use a formal voice and complex phrasing (no slang or colloquialisms). Specific examples from your history, present, and future should be given. Avoid making broad generalizations. Lack of specificity denotes carelessness or ignorance, neither of which would impress a scholarship review committee.